I received an email form
Wordpress
a month ago about my
old blog
's status. I was impressed that the trending post was from my entry regarding my adventure at
Camp Suki Clothier
about 2 years ago. Each day I checked on my blog status back then, a search or view from that article is always on my top list. It was funny, though, that people who visit it always mistaken me as the owner of the place. The entry only tell our adventure going there because it was really quite an adventure in an unknown place.
Most Popular post is the Camp Suki Entry
Camp Suki entry is most searched
Most Viewed entry is guess what? Yes, it's Camp Suki
To tell you a bit of what happened, it was Christmas season and we are looking for
costumes
for our Christmas party. We didn't know of any
costume shops
back then and so with the help of the internet, we found this place in Quezon City. I am not familiar with anything not along EDSA back then and so, with my ex-office mates, we all went to the address posted on the web. Turns out, every article we saw was not updated and so we are looking for a store not existing along
E.Rodriguez Avenue
.
Good thing we consulted the internet again and found a different address and a phone number with it. We called them just to be sure we are going to the right place and they confirmed on us. We went there but still we are lost, however, thanks to the guard at Pancake House near
St. Luke's Medical Center
, he was able to give us exact directions to the place. We followed it and soon found the place we are looking for,
Camp Suki Clothier
.
For those interested, here is the direction given to us. This is the same thing I say over and over to those asking for directions going there.
Go to E. Rodriguez Avenue and look for St. Luke's Medical Center.
There is a street across the hospital and there are a lot of tricycles parked there
Ask the driver to drop you off 4th street near Mt. Carmel Church. They all know Camp Suki so you will not be lost.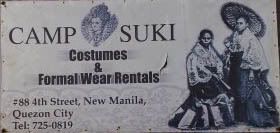 Camp Suki Clothier
is a small shop that offers customers of
costume rentals
. They have a lot to choose from from Medieval, Arabian, Mexican and even prince and princesses. It has a vast collection and you need to look for each clothes and costumes that you want. It was just a bit dusty in there but still it was fun fitting on the different costumes around there.
The pricing is a bit expensive, though, but since
costume shops
need to clean and repair the stuff they have, I think it is a bit justifiable. But in the end, I didn't rent since I was allergic to the dusts inside and so I couldn't last looking at the stuff there (and they are expensive >_<).
Here are some details of
Camp Suki Clothier
for those interested:
Address:
88 4th Street, New Manila
Tel. No:
(63-2) 725-0819
,
(63-2) 725-4562
Cell Number:
0917-824-6900
Email address:
info@campsuki.com
Website:
http://www.campsuki.com
If you want to read my adventures there, visit my old blog
here
.Also, read the comments to see that people always mistaken me as the owner. It was really funny and frustrating at the same time. I am getting tired of explaining over and over again to them.
Here are some of the pictures we had back then (this was 2 years ago.. so long ago...). Just to give you some idea on the stuff they have for rent.
ex office mates at Camp Suki Clothier

When you need
costumes
, this is the right place to look for it. Again, as a disclaimer, I am not the owner, I just happen to know the place and wanted to help people who are looking for it too. Enjoy your
costume
hunting everyone! :)