For those of you who still don't know,
Sugarfree
will disband this March and they have a series of last gigs all over February. One of this was last February 10, 2011 at
Saguijo Bar
in Makati. Tanja and the rest of my college batchmates invited me there to watch one of their last gigs with Ebe (the band's lead vocalist).
I first knew about
Sugarfree
back in college when they went to UPLB Math building for MTV's Homecomming. It featured Ebe's High School which is UP Rural High School. Since the present Math Building in UPLB is the former UPRHS, he went there and that time, I was also there for a class. I didn't know them so I didn't care. It was only when Kat told me about it and I got curious and watched the episode that was shot there. That was the first time I heard them and I liked their music instantly. They became one of my most listened to during my college days.
If you listen to their songs, it talks more on love and heartbreaks. Yes, kind of emo for some but I say they talk about what a person really feels, the reality of feelings we experience, that is why many relate to it. One of my favorite song from them is
Kung Ayaw Mo Na Sa Akin
because my blocmates dedicated it to me on those moments of my life I don't want to talk about here (I think you know what I am talking about, blocmates, you know that already
:P
). Their rhythm, beat and lyrics is easy to catch and even you just listen to their songs for the first time, you'll be humming it for the rest of the day.
Some of their songs are
Prom
,
Burnout
,
Dramachine
,
Mariposa
,
Hay Buhay
,
Los Baños
,
Kwarto
,
Unang Araw
, and many more. Check out their albums and maybe there are more you like I didn't mention here.
So it was 8pm when we got to
Saguijo
(we had dinner first) and the others were already there. We were waiting for the crowd to come.
Saguijo Bar
is small. It is a residential house converted into a bar. The outsides has chairs and tables for those who want to drink and eat the night away. The interior is a plain room with drums and sounds setup at the corner. This is where musicians play. The crowd there stands up and jams with them. Although you can sit on the floor of course if there are only a few people. This night it was crowded with people!
>.<
We decided to go in as the crowd grows thick. We reserved our own place near the stage but a group got in front of us. It was okay but they were really big that for my height, I can only see the heads of the performers
:(
. At 10pm the show started with
Duster
. They are the one who sang
Dek-A-Doodle Dandy.
I knew this song from Word of the Lourd segment that I've watched. This is the first time I heard them live.
Duster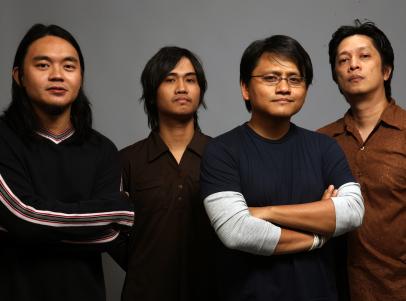 Peryodiko
Another band who performed is Peryodiko. The lead singer is Ebe's brother,
Vin Dancel
. It was also the first time I heard them play their song and their music is also good. They played a few songs before Sugarfree finally came up on stage.
Sugarfree with
Ebe Dancel on lead vocals, Jal Taguibao on Bass and back-up vocals, and Kaka Quisumbing on Drums was up and everyone is hyped. I got to snap some pictures and video of their gig. Watch below and have fun. Feel their music as they sing it with the crowd.
Saguijo that night was super crowded and super hot. The air con inside is no use. We are all like in a big sauna only that a band was playing. It was difficult to breath but every time they sing a song we like, it doesn't matter at all that we are all sweating (and smelling :P) hard. It was a nice night and I am glad I finally get to watch them live (even if I just saw their heads >.<) before they disband.
Ebe standing on a case of beer just so fans could see him :)
I had several videos of them but blogger seems to upload them very slowly. And also I think my connection is quite slow too so I'll post the rest next time, for now, I hope those two above is fine.
We got home still humming their music. It was late and we need to go home since there is still work in the morning. Thanks for your music Sugarfree!