As the rain kept on pouring after we washed up at
Pundaquit
, we decided to have lunch at
SBMA
since it was on our way back home. I recommended
Magic Lagoon Grill Bar and Restaurant
since I have tried this place a year ago and I have enjoyed it because of its yummy and affordable dishes.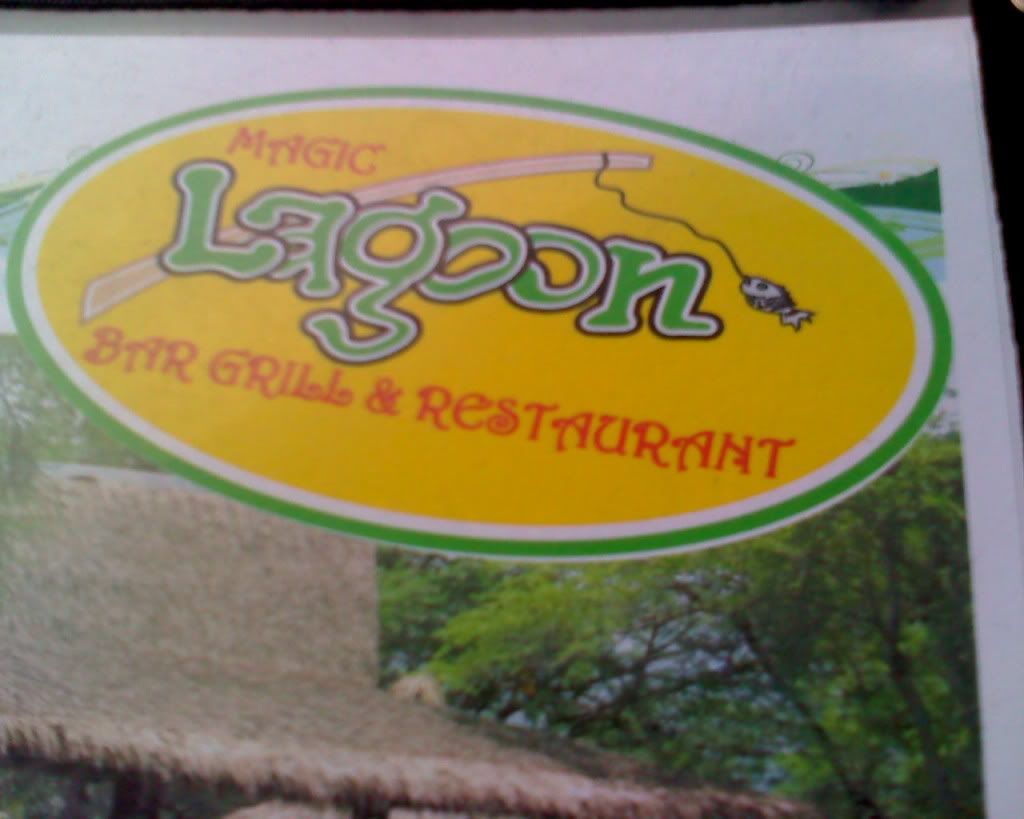 Our travel from Pundaquit to SBMA took about an hour and so, we were all asleep because of the tiredness we are already feeling from the island hopping at
Capones Island
and overnight camping at
Nagsasa Cove
.
mini lake at the Magic Lagoon
We arrived at
Magic Lagoon Grill Bar and Restaurant
at around 3am, just in time to catch a rerun of Pacquiao's fight with Sugar Shane Mosley. The place is showing it on its large LCD TV. It was still raining and so we made it as an excuse to stay longer at the place.
As we got there, I noticed that it hasn't changed a year ago when I first got there. there is still the small lake that reflected the trees on the other side. The wooden tables and chairs are still in the main dining area beside the bar full of liquors and hard drinks. The far tables under the trees are still there and the kitchen from afar is still busy preparing the dishes ordered by the guests. There are also the geese and other fowls that roam the area scavenging food. It was still a homey place to stay and eat after the tiring adventure that we previously had.
We decided to order
Chopsuey
,
Sizzling Mixed Seafood
,
Lechon Kawali
and
Shanghai Fried Rice
, paired with a tower of iced tea.
Chopsuey
The
Chopsuey
was good. the vegetables are all cooked topped with the thick sauce.
Sizzling Mixed Seafood (P275)
The
Sizzling Mixed Seafood
was also good but it wasn't that sizzling when served. Also the seafood seems to be too much drenched in the sauce that it only had one flavor and you cannot distinguish what seafood you were eating.
Lechon kawali (P195)
The
Lechon Kawali
was the yummiest among our dishes. It has the right crispiness and with the liver sauce, it was really good.
Shanghai Fried Rice (P240)
Everything is yummier with the
Shanghai fried Rice
.
We stayed there for a while while watching the fight. We were also waiting for the rain to stop even if it didn't have any hint of stopping. We took pictures of the place and also the animals that roam the area.
Guinea Fowl
Goose
This place is a well recommended for me, good food, great ambiance, nice service (they replaced one of the tower of iced tea since it didn't have any flavor) and affordable dishes, plus, you get to watch some boxing action on their TV. If ever you stop by
SBMA
, try
Magic Lagoon Grill Bar and Restaurant
out, you'll surely like it.